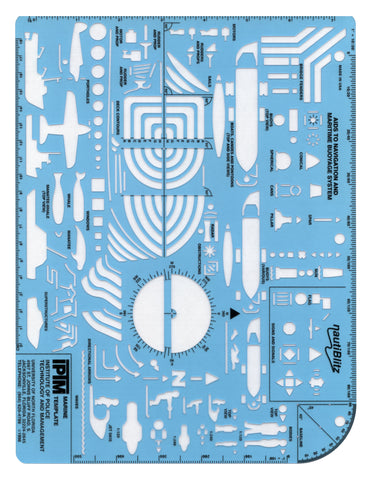 nautiBlitz Marine Template
nautiBlitz Marine Template



designed by R.W. Rivers
IPTM's nautiBlitz Marine Template is a versatile aid to drawing scale diagrams of marine crashes. The template will enable you to render nearly any type, shape and size vessel-from a canoe to a tanker-with cutouts showing a top or side view.
The nautiBlitz template includes cut-outs of the following:
boat superstructures

sails

rudders

outboard motors

airplanes

vehicles

boat trailers

jet skis

water skiers

swimmers

people

whales

manatee

waves

signs

buoys

bridge fenders

radar obstructions

directional arrows

circles

squares

rectangles
Features of the template include:
Straight-edge distance scales in both feet and meters

90-degree protractor

Compass rose

8"x10½" size that fits easily in a standard 3-ring binder

Instruction card explaining symbols and use of the template
Designed by R.W. Rivers, this quality instrument promises to do for marine crash investigation what the popular blueBlitz has done for motor vehicle crash investigation.
For all Canadian template orders, contact Justice Institute of BC, Driver Education Centre at (604) 528-5891.
Save 10% when you order 10 or more! Use Code 
BULK140
 in Cart.