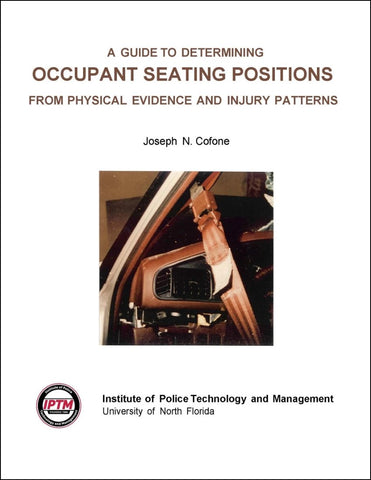 A Guide to Determining Occupant Seating Positions from Physical Evidence and Injury Patterns
A Guide to Determining Occupant Seating Positions




from Physical Evidence and Injury Patterns



by Joseph N. Cofone
If you are a traffic crash investigator or reconstructionist who handles crashes that involve severe injuries or fatalities, then this book is for you.
The question of who was sitting where in a vehicle is crucial to determining how and why the crash occurred and who is to be charged or held liable. Especially important is determining who was driving. The author shares the expertise he has acquired and makes a proven method for investigating crashes. He leads you step-by-step through an actual case that embodies many of the issues typically confronting an investigator.
In this book, you'll find detailed information on:
Developing an investigative plan to accomplish set objectives

The effects of physics on the severity of occupant impact

Pre-impact vehicle dynamics and dynamics of the crash

Kinematics - the movement of occupants inside the vehicle

Collecting, handling and preserving evidence, including cross transfers

Correlation of occupant injuries to vehicle interior damage

Reaching conclusions in regard to the objectives
Joseph N. Cofone is a sergeant with the Fatal Accident Investigation Unit at the Bergen County New Jersey Prosecutor's Office. He has received awards in police traffic safety and crash investigation and reconstruction and is a founding member of the New Jersey Association of Accident Reconstructionists.
Specifications: 59 pages; 8½"x11"; coil bound; 22 black and white photos; 3 diagrams; Publisher: IPTM (1997)
Save 10% when you order 10 or more! Use Code 
BULK103
 in Cart.