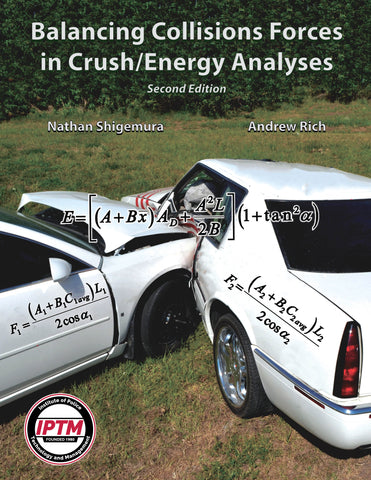 Balancing Collision Forces in Crush Energy Analyses Second Edition
Balancing Collision Forces in Crush/Energy Analyses
Second Edition
by Nathan Shigemura and Andrew Rich

Crush/energy analysis continues to remain an important tool for the reconstructionist. It provides another method of resolving a traffic crash where other methods may not be available or appropriate. For reconstructionists faced with the task of performing this analysis, this publication may help take the mystery out of the process of solving for the stiffness coefficients of a particular crash.
The authors show you how appropriate stiffness coefficients can be determined by performing an analysis where collision forces are balanced and new stiffness coefficients are calculated. These values can be obtained when published values are not available or not applicable. By determining the proper stiffness coefficients, you will be able to calculate equivalent barrier speeds (EBS), delta-V's and impact speeds of colliding vehicles.
An appendix shows you an example of the process of balancing collision forces and calculating new stiffness coefficients for one vehicle, when the values are known for the other.
About the Authors:
Nathan Shigemura retired in 2002 as a sergeant from the Illinois State Police, where his duties included crash investigation instructor, traffic crash reconstructionist and supervisor of the statewide Traffic Crash Reconstruction Unit. As co-owner of the Traffic Safety Group, LLC, a traffic crash reconstruction and analysis company based in Illinois, he remains active as a reconstructionist. Since 1989, Mr. Shigemura has been an adjunct faculty member of IPTM, for whom he continues to teach courses worldwide in all levels of traffic crash investigation and reconstruction. He is the author of Mathematics for the Traffic Accident Investigator and Reconstructionist, published by IPTM in 1996; co-author with John Daily of Fundamentals of Applied Physics for Traffic Accident Investigators, published by IPTM in 1997; and co-author with John Daily and Jeremy Daily of Fundamentals of Traffic Crash Reconstruction, published by IPTM in 2006. Mr. Shigemura received a BS degree in Electrical and Electronic Engineering (BSEE) from the University of Illinois, Chicago in 1975. He is accredited by the Accreditation Commission for Traffic Accident Reconstruction (ACTAR).
Andrew Rich is one of two principals for Rich Consulting, LLC. He retired from law enforcement after a twenty-five year career, during which time he investigated over 2500 motor vehicle collisions. Fourteen of those years he served with the Bergen County (NJ) Prosecutor's Office Fatal Accident Investigation Unit. Mr. Rich earned a degree in mechanical engineering, summa cum laude, from the New Jersey Institute of Technology. He is ACTAR accredited as well as an ASE certified automobile technician. Mr. Rich has testified as an expert in depositions and trials and is a member of IPTM's adjunct faculty.
Specifications: 28 pages; 8-1/2"x11"; coil bound; Publisher: IPTM (September 2020)
Save 10% when you order 10 or more! Use Code 
BULK164
 in Cart.