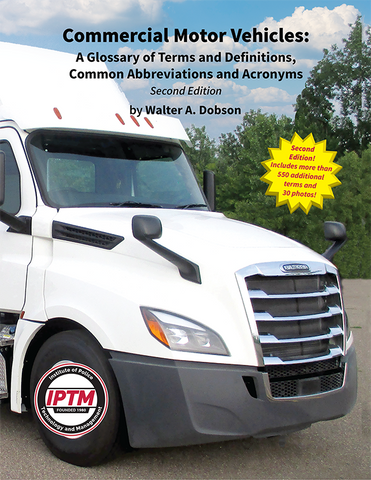 Commercial Motor Vehicles Glossary of Terms, Definitions, Common Abbreviations and Acronyms 2nd ED
Commercial Motor Vehicles:




A Glossary of Terms, Definitions, Common Abbreviations




and Acronyms - Second Edition



by Walter A. Dobson
The second edition of this comprehensive glossary contains more than 2,000 of the most common terms you will encounter when dealing with commercial motor vehicles and their components. Some of the definitions include photos, which are provided to help you quickly identify specific trailer types and/or parts of the vehicle.
You will also find references to many of the slang terms and abbreviations that are used within the industry. This publication will assist anyone who may be called upon to investigate crashes involving commercial motor vehicles. 
About the Author:
Walter A. Dobson has an extensive background in trucks, buses and commercial motor vehicles and was employed as a truck and bus mechanic early in his career. He retired after more than 36 years of service from the United States Postal Service (USPS), where he held many positions related to vehicle maintenance, trucking and crash investigation. From 1987 until December 2017 he worked in the Tort Claims and Crash Investigation division covering the South Florida District. He was one of the few people recognized as an Accident Reconstructionist and he investigated numerous crashes in other geographical areas of the United States for the USPS. Mr. Dobson has been qualified as an expert and has testified in Federal and Civil courts. He continues to be a member of the Technology & Maintenance Council, American Trucking Association (TMC). He has presented at numerous conferences and seminars and continues to teach the commercial vehicle-related crash courses for IPTM.
Specifications:
179 pages; 8½"x11"; coil bound; Publisher: IPTM, 1st Printing (June 2021)
Save 10% when you order 10 or more! Use Code 
BULK166
 in Cart.