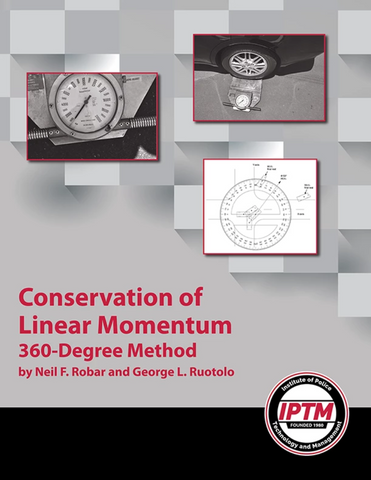 Conservation of Linear Momentum 360 Degree Method
Conservation of Linear Momentum 360-Degree Method
by Neil F. Robar and George L. Ruotolo
This booklet was written to supplement Chapter 11 of the Advanced Traffic Crash Analysis 2nd edition manual. Containing photos, illustrations and examples in both U.S. and S.I. units, it begins where Chapter 11 ends and explains how to calculate speeds at impact—V1 and V2—using the 360-Degree Method. Using the techniques outlined in this supplement, a reconstructionist will be able to mathematically apply Linear Momentum to many typical crashes under investigation.
About the Authors:
Neil F. Robar is a 20-year veteran of the Hollywood (FL) Police Department where he began his career as a patrol officer, rose to the rank of Lieutenant and retired as a Captain. During his tenure he commanded the Fatal Accident Unit, and later, the Detective Bureau. In 1980, he became IPTM's first employee and trained police all over the globe until his retirement in 1994, when he entered private practice as an Expert Witness in collision reconstruction. While he consulted on all types of vehicle collisions, Mr. Robar specialized in crashes involving motorcycles. His expertise was sought throughout the United States and he authored several articles and booklets dealing specifically with motorcycle crashes. He also co-authored the 1st and 2nd editions of Advanced Traffic Crash Analysis with George Ruotolo.
George L. Ruotolo is President of Ruotolo Consulting, Inc. As a recognized Expert Witness, author, and professional police trainer, Mr. Ruotolo has been providing traffic collision consulting and reconstruction services for more than 35 years throughout the U.S. and internationally. During that time, he reconstructed over 3,400 fatal and serious personal injury crashes, provided expert witness testimony in more than 150 trials, and offered sworn deposition testimony in approximately 300 civil and criminal cases across the U.S. in both state and federal jurisdictions. Accredited by ACTAR and the Florida Bar Association, Mr. Ruotolo provides "CLE" credit seminars to both attorneys and paralegals in the field of crash reconstruction. During his career with New York State and IPTM, he developed curricula and trained thousands of law enforcement officers and administrators around the globe on topics such as traffic crash investigation/reconstruction; DUI/DWI, including breath test certification; RADAR certification; police executive management training; police policy and procedure; and police instructor certification. Through the University of North Florida—IPTM, Law and Order Magazine and the Law Enforcement Executive Forum, Mr. Ruotolo authored and published numerous textbooks, booklets, and articles on topics pertaining to linear perimeter measurement, interpreting vehicle damage, courtroom testimony, report writing, and police pursuit policy, to name a few.  Several of these are available via webinars through IPTM's online training system. He also co-authored the 1st and 2nd editions of Advanced Traffic Crash Analysis with Neil F. Robar.
Specifications: 16 pages; 8½"x11"; saddle-stitched; includes photos and illustrations; Publisher: IPTM (September 2018)
Save 10% when you order 10 or more! Use Code 
BULK116
 in Cart.