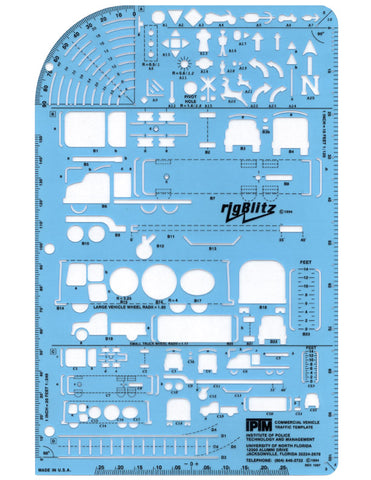 rigBlitz Commercial Vehicle Traffic Template - US Scale
rigBlitz Commercial Vehicle Traffic Template




US Scale



designed by R.W. Rivers
The rigBlitz Commercial Vehicle Traffic Template is another quality instrument designed by R.W. Rivers expressly for drawing sketches or scale diagrams of crashes involving commercial vehicles. A metric scale template is also available; see it's separate listing.
U.S. scale: 1 inch = 120 inches and 1 inch = 240 inches
The cutouts allow any type and shape of cab and truck body or tractor and trailer to be drawn in any configuration.
So that you do not have to swap between multiple templates, the following cutouts are also included:
automobiles

railroad engines

railroad cars

railroad tracks

traffic signs

traffic signals

turn arrows

motorcycles

people

animals
In addition, the rigBlitz Commercial Vehicle Traffic Template has a protractor for measuring and constructing angles and comes with an illustrated instruction manual.
For all Canadian template orders, contact Justice Institute of BC, Driver Education Centre at (604) 528-5891.
Save 10% when you order 10 or more! Use Code 
BULK145
 in Cart.