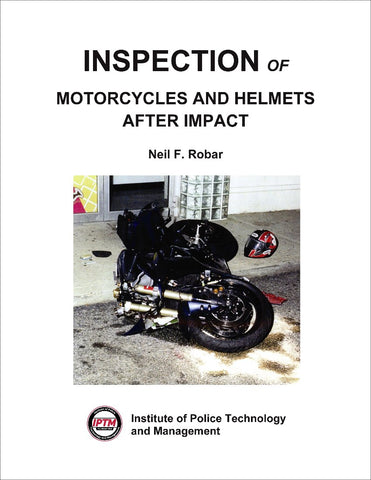 Inspection of Motorcycles and Helmets After Impact Manual
Inspection of Motorcycles and Helmets After Impact



by Neil F. Robar
In any motorcycle collision, the motorcycle and helmet may be your only sources of evidence. Mr. Robar, the author of two of IPTM's popular publications, Motorcycle Helmet Inspection After Impact and Inspection of Motorcycles After Impact, has updated both manuals and assembled them into one publication--Inspection of Motorcycles and Helmets After Impact.
In this combined book, the daunting task of reconstructing a motorcycle crash has been broken down into specific components. Mr. Robar guides you through the steps to take when inspecting a motorcycle so that an accurate and comprehensive investigation can be made. He shows you the impact damage certain components may sustain and what this damage can reveal about the collision.
And since the investigation would not be complete without the inspection of the helmet, the second part of the book focuses on the components of the helmet. In the same methodical fashion, Mr. Robar explains how to examine each part of the helmet, which ultimately may corroborate or even refute your conclusions about the crash.
The text includes multiple forms, log sheets, and checklists that you can copy and use during your investigations.
The book is divided into two parts and contains the following chapters:
Part I:
 

Photo Evidence

 

Front End Assembly

 

Rear Section of Motorcycle

 

Center of Motorcycle

 

Accessories and Miscellaneous Items

 

Conclusion

 
 Part II:
 

Helmet Inspection

 

Unapproved Helmets

 

Helmet Evolution

 

Types of Helmets and Their Components

 

The Helmet's Function

 

The Motorcycle Helmet Inspection Process

 

Why Inspect the Helmet

 

Internal Inspection of Disassembled Helmet

 

Final Report and Conclusions
Neil Robar retired at the rank of lieutenant from the Hollywood (Florida) Police Department, where he either commanded or worked in every division and unit. Neil F. Robar is a 20-year veteran of the Hollywood (FL) Police Department—retiring at the rank of Captain—where he commanded the Fatal Accident Unit, and later, the Detective Bureau. In 1980, he became IPTM's first employee and trained police all over the globe until his retirement in 1994, when he entered private practice as an Expert Witness in collision reconstruction. While he consulted on all types of vehicle collisions, Mr. Robar specialized in crashes involving motorcycles. His expertise was sought throughout the United States, and he authored several articles and booklets dealing specifically with motorcycle crashes. Mr. Robar is now fully retired.
Specifications: 117 pages; 8-1/2" x 11"; coil bound; Publisher: IPTM (April 2008)
Save 10% when you order 10 or more! Use Code 
BULK132
 in Cart.