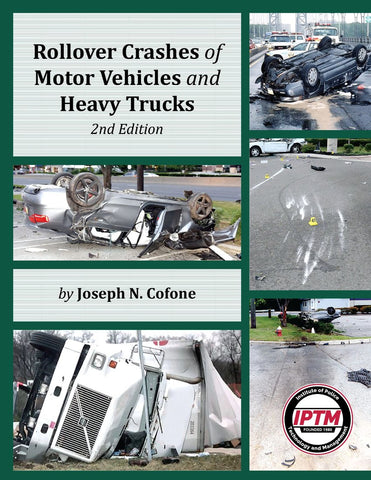 Rollover Crashes of Motor Vehicles and Heavy Trucks - 2nd Edition
Rollover Crashes of Motor Vehicles and Heavy Trucks

- 2nd Edition

By
Lt. Joseph Cofone
This newly revised and expanded manual will serve as a guide for anyone investigating and reconstructing rollover crashes. Although intended primarily for law enforcement crash investigators and reconstructionists, it may be a helpful tool for trucking industry safety officers, insurance investigators, and private practice crash reconstructionists.
General vehicle roll dynamics for automobiles and heavy trucks are discussed along with methods to estimate a vehicle's minimum rollover speed. Relevant vehicle and roadway evidence and the importance of properly recognizing, documenting, and measuring such evidence is emphasized. The appendices contain a useful investigative and analysis guide, a glossary, and an equation directory.
Topics include:
General Vehicle Roll Dynamics
Estimating Velocity at Rollover for Untripped Events
The Three Phases of The Rollover Event
Trip Speed
Number of Rolls and Vehicle Path
Post-Trip Deceleration
Vehicle Evidence
Rollover Caused by Vehicle-To-Vehicle Impacts
Occupant Kinematics in Rollover Crashes
EDR Data
Rollover Events Involving Heavy Trucks
Liquid Tank Trucks
Concrete Trucks
Heavy-Duty Dump Trucks
Swinging Load Vehicle
Motor Coaches
Estimating Rollover Speed for Heavy Trucks
Electronic Data and Driver's Experience
Mr. Cofone also includes three appendices—an Investigation Guide, Rollover Glossary, and an Equation Directory.
About the author: 
Joseph N. Cofone was a police officer for more than 27 years. At retirement he held the rank of lieutenant in the Bergen County (NJ) Prosecutor's Office Fatal Accident Investigation Unit, where he was assigned to investigate and reconstruct serious and fatal motor vehicle crashes.  He is a founding member and was the first president of the NJ Association of Accident Reconstructionists; a founding and former board member of the NJ Prosecutor's Crash Investigation Association; a regional vice president of the NJ Police Traffic Officers Association; and a past president and co-founder of the Police Traffic Officers Association of Bergen County.
Lt. Cofone has testified in NJ Superior Court and several municipal courts as an expert in crash reconstruction. In 1997 he was certified by the Accreditation Commission for Traffic Accident Reconstruction (#835). He is the author of several manuals published by IPTM and has had articles dealing with topics related to crash investigation and reconstruction appear in various professional publications. He is also an Academic Specialist for Kean University in NJ where he teaches courses in crash investigation. 
Specifications: 162 pages; 8½"x11"; coil bound; Publisher: IPTM, 2nd Edition, 1st Printing (May 2019)
ISBN 978-1-934807-22-4
Save 10% when you order 10 or more! Use Code 
BULK146
 in Cart.